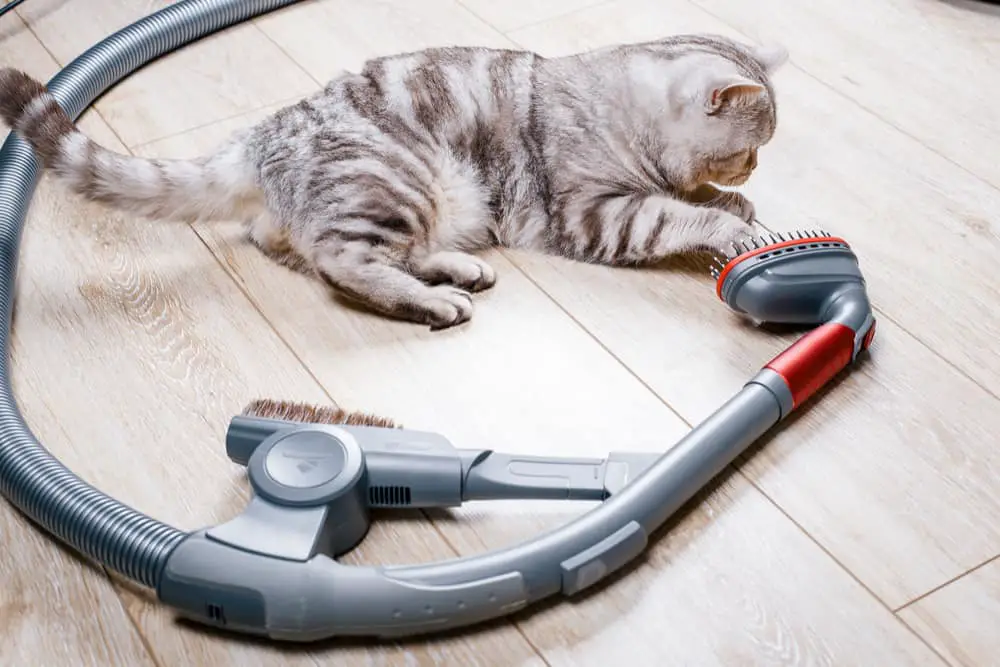 Best Canister Vacuums for Pet Hair
When you're looking at the best canister vacuums for pet hair management, you need to evaluate how much pet hair do you have, what kind is it, and how often do you clean.
My cat Marina has long hair that's crimpy and super soft. Thus, it gets seriously stuck in our short pile carpet. I use the stick vacuum on heavy traffic areas four times a week. But I still have to reach down and pick up some of the fur occasionally.
A good canister vacuum can help get all the fur off of your carpets. the best canister vacuums for pet hair have attachments will help you clean your furniture and drapes.
How Do You Choose Good Canister Vacuums for Pet Hair
Look for a canister vacuum with over 1200 watts of power. It also helps to have power bursts. And the better canister vacuums have an easy way to adjust the level of the vacuum beater brush so you can get a better cleaning.
Next, look for a cord that is long enough so you can vacuum an average room without having to move the plug.  I like a cord that's at least 15 to 20 feet and retractable.
The canister part of the vacuum should have wheels that rotate to make it easier for the canister to maneuver around furniture and corners while you're vacuuming.
It's essential to find a canister with a motorized power brush head. If it's not, you have a large bulky electric broom, and it won't get the pet fur off of the carpet.
Last but not least, you will want the attachments to connect and disconnect easily. If you have to struggle, you won't be wanting to vacuum regularly. And then the pet fur builds up until it takes over your house and demands its own bed.  Just kidding…sort of. The longest I went was two months once and I thought some fur asked for dinner.
Top Three Canister Vacuums for Pet Hair
The top three are all best sellers from reputable companies and have a lot of positive feedback from around the internet.
Miele Classic C1 Cat and Dog Canister Vacuum Cleaner
Miele is one of the top manufacturerers of vacuum cleaners. They produce versatile and long lasting vacuums that do what they promise. The Classic C1 has 6-speeds so you can really vacuum up the fur. And the canister is small and lightweight. What I also like is the special filters to capture 99.9% of airborn particles and pet odors.
The downside? You have to replace the filters and the vacuum bag regularly. It's pretty minor considering how clean your house will be.
[amazon_link asins='B072JGWYDG' template='ProductCarousel' store='cleanpantry-20′ marketplace='US' link_id='ce16971f-cbdc-11e7-8bb9-f3c5e81442a2′]
Kenmore 81614 600 Series Pet PowerMate
My current canister vacuum is a Kenmore I bought probably 18 years ago and it's still going strong.  Kenmore makes workhorses. You take care of it, and it will take really good care of you.
The 81614 Pet PowerMate has HEPA filtration and a special motorized pet hair brush so you can handle the fur at the source. It also requires a vacuum cleaner bag. So you'll need to keep extras on hand as well as spare HEPA filters.
The downside is this vacuum doesn't have a light at the end of the carpet attachment.
[amazon_link asins='B01N4RYVA0′ template='ProductCarousel' store='cleanpantry-20′ marketplace='US' link_id='76130c28-cbdd-11e7-96c2-ff8301d514dd']
Bissell Multi-Cyclonic Bagless Canister Vacuum
Yes, I made sure I found one good bagless canister vacuum for you! Bissell is usually known for hard floor care. However, they do make very good vacuum cleaners for carpets and area rugs.
The multi-cyclonic canister vacuum was designed to have consistent suction and be able to move across a variety of flooring surfaces while picking up whatever was needed.
The debris tank opens from the bottom and is easy to empty into your garbage can.
This vacuum cleaner is a bit heavier than the others coming in at 13 pounds. They're all so much lighter than they used to be.
[amazon_link asins='B015OORUCW' template='ProductCarousel' store='cleanpantry-20′ marketplace='US' link_id='765c7bf3-cbde-11e7-88ec-173c3df8207d']