When you're looking at the best canister vacuums for pet hair management, you need to evaluate how much pet hair do you have, what kind is it, and how often do you clean.
My cat Marina had long hair that's crimpy and super soft. (She passed away from complications due to her diabetes Mother's Day weekend of 2019).
Her pet hair got seriously stuck in our short pile carpet. I used the stick vacuum on heavy traffic areas four times a week. But I still had to reach down to pick up tufts of fur.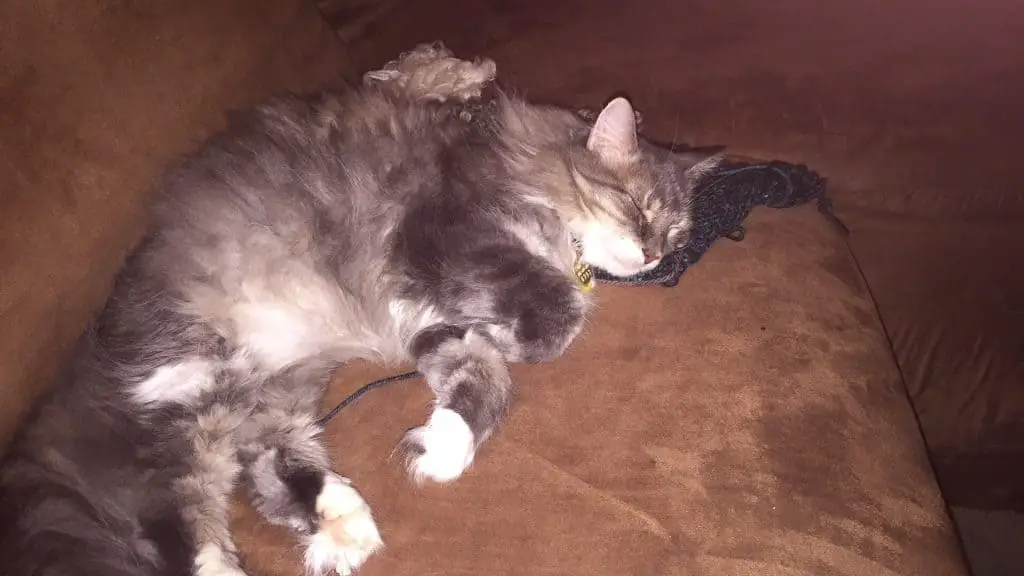 A good canister vacuum can help get all the fur off of your carpets. The best canister vacuums for pet hair have attachments that will help you clean your furniture and drapes.
Canisters tend to have stronger suction than stick. And it's more consistent when it's run off of a cord than run on a battery.
How Do You Choose Good Canister Vacuums for Pet Hair
Look for a canister vacuum with over 1200 watts of power. It also helps to have power bursts. That gives you the extra suction you will need for sticky pet fur. And it can help with cleaning corners.
The top-of-the-line canister vacuums have an easy way to adjust the level of the vacuum beater brush so you can get better cleaning. You want it to be higher up for high-pile and lower for flatter surfaces.
Next, look for a cord that is long enough so you can vacuum an average room without having to move the plug. I like a cord that's at least 15 to 20 feet and retractable.
The canister part of the vacuum should have wheels that rotate to make it easier for the canister to maneuver around furniture and corners while you're vacuuming.
It's essential to find a canister with a motorized power brush head. If it's not, you have a large bulky electric broom, and it won't get the pet fur off of the carpet.
Last but not least, you will want the attachments to connect and disconnect easily. If you have to struggle, you won't be wanting to vacuum regularly.
And then the pet fur builds up until it takes over your house and demands its own bed. Just kidding…sort of. The longest I went was two months once and I thought some fur asked for dinner.
Top Three Canister Vacuums for Pet Hair
The top three are all best sellers from reputable companies with excellent warranties. They also have the best assortment of attachments as well as positive feedback on Amazon.
AirWay Altera Canister Vacuum Cleaner
Altera specifically designed all of their vacuum cleaners to handle pet hair. They're based in Cincinnati, and the company has been in business since the 1920s.
The retractable cord is 25 feet, so you can get a lot of cleaning done before moving the cord.
The Altera has a True HEPA filter that are disposable.
The motor is 12A, and you have a variable speed option that uses LED indicators.
What's also fun is that there is a dirt sensor to indicate when your carpet is clean. And there's also a headlight. I love headlights on vacuum cleaners so I can see where I'm going under furniture or in corners.
The whole vacuum plus accessories weigh in at 32 pounds. The canister has an easy handle on the end making it simple to pick up and move.
The downside? You have to replace the filters and the vacuum bag regularly. It's pretty minor considering how clean your house will be.
Kenmore 81614 600 Series Pet PowerMate
My current canister vacuum is a Kenmore I bought probably 18 years ago and it's still going strong. Kenmore makes workhorses. You take care of it, and it will take really good care of you.
The 81614 Pet PowerMate has triple HEPA filtration and a special motorized pet hair brush so you can handle the fur at the source. It also requires a vacuum cleaner bag. So you'll need to keep extras on hand as well as spare HEPA filters.
The telescoping wand is 10 feet in length so you can get those cobwebs on the ceiling more easily.
The retractable power cord is 28 feet.
The downside is this vacuum doesn't have a light at the end of the carpet attachment.
Bissell Powergroom Multicyclonic Canister Vacuum 1654
Yes, I made sure I found one good bagless canister vacuum for you! Bissell is usually known for hard floor care. However, they do make very good vacuum cleaners for carpets and area rugs.
The multi-cyclonic canister vacuum was designed to have consistent suction and be able to move across a variety of flooring surfaces while picking up whatever was needed.
The debris tank opens from the bottom and is easy to empty into your garbage can.
This canister vacuum does have a telescoping wand, but I couldn't verify how far it extends.
People who purchased were also disappointed with what they perceived of as a short power cord. They had to unplug, move everything, and plug back in to clean a large area.
Also, unlike the other canisters, you cannot store the attachments on the canister.
People were really happy with the suction power and the ability to empty out the debris without having to change a vacuum cleaner bag.