When you think about a stick vacuum, do you think it's going to be an under-powered electric broom?
You're not alone.
Stick vacuums are often equated to electric brooms. There was something nice about the lightness of an electric broom as well as how easy it was to clean up.
The world of sucking up debris has changed a lot since the dustbuster days.
And the Prolux cordless vacuum is not only powerful, it gives you two types of vacuums for the price of one.
Why a Light Vacuum Is Useful for Most Jobs
When you vacuum regularly, you can use a lighter cordless rather than a larger upright or canister.
Your other considerations could be where you live (wind and dust) and if you have people tracking in dirt and mud.
The Difference Between Electric Brooms and Cordless Stick Vacuums
An electric broom does not have a special vacuum cleaner head with a beater bar on it.
The motorized brushbar on the head of the vacuum cleaner is designed to fluff up carpeting to make it easier for the vacuum to pick it up.
So electric brooms are useful for hard flooring and stick vacuums are useful for carpets and rugs.
Some cordless vacuum cleaners are self adjusting so they aren't running the motorized beater brush when you're on a hard floor. This saves on the wear and tear of hardwood floors.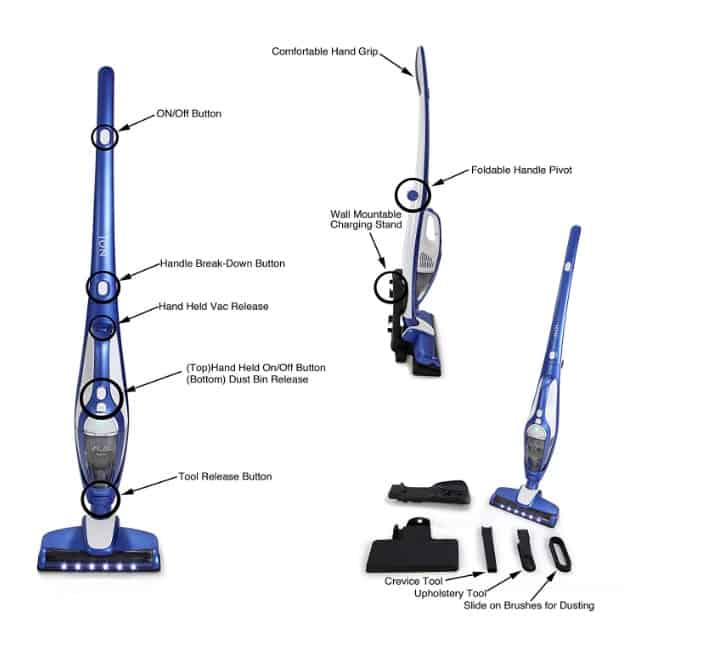 What's Special About the Prolux Ion
For the price point, the Prolux Ion has a strong vacuum, and it's lightweight and maneuverable. Plus, you can pull out the vacuum and use it as a hand-held vacuum cleaner.
What I think is super special is that it has an on-off switch. This lets you vacuum without having to hold down a trigger which is common on most cordless vacuums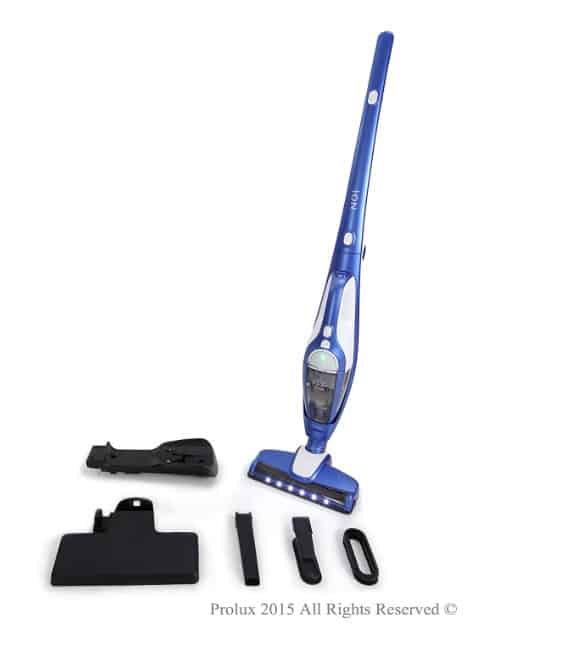 The Important Stuff
Most people want to know how long the battery lasts, and how often will they have to empty out the debris cup.
It's also useful to note the weight and the accessories. If you have difficulties lifting, you will want to see how lightweight it is.
Finally, you'll want to know what the warranty is. I can say that Prolux has been in business for almost 2 decades and have a stellar customer service reputation.
The Info You Want
The Prolux Ion can vacuum for up to 24 minutes per charge. The whole 2-in-1 unit weighs less than 6 pounds.
The head can swivel 180 degrees which is great for moving around furniture and corners.
This stick vacuum comes with a crevice tool and upholstery tools with an add-on for dusting.
The Prolux Ion is bagless. The size of the debris cup is average size. I couldn't find the exact size, but most reviewers said they needed to empty it out after vacuuming a large room.
Prolux offers a 2 year warranty on the motor and 1 year on the rest of the vacuum.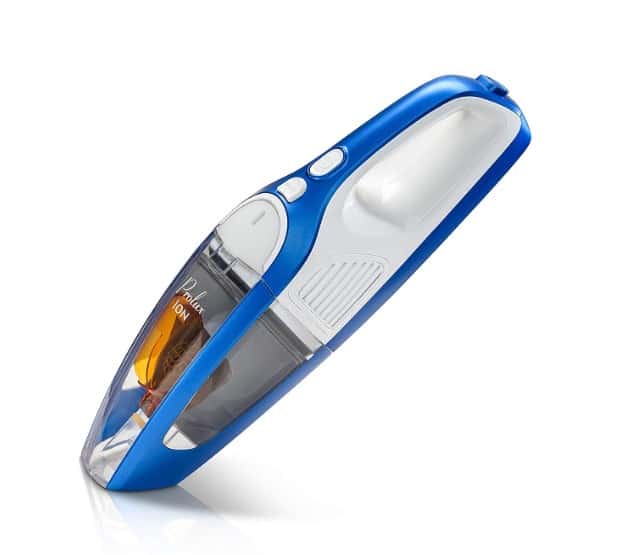 The Pro's of the Prolux Ion
There is a dual-power mode so you can get that extra burst of suction to pick up some pesky cat fur stuck on the carpet.
The main vacuum head comes equipped with bright LED lights so you can see where you're vacuuming.
Being bagless means never having to run out of vacuum cleaner bags when you're mad-dash cleaning before someone comes over. It's happened to me. More than once.
One feature I really liked is that there is an on/off switch. Most stick vacuums have a trigger that you hold down when you want to vacuum.
The Con's of the Prolux Stick Vacuum
It does not have a HEPA filter, but there is a micro-filtration system, so you are keeping down the dust that may get kicked up. Prolux also offers a different HEPA filter that you can purchase separately if you do have bad allergies.
Should You Buy the Prolux Ion?
If you're looking for a versatile vacuum cleaner, you should put this on your list of vacuums to consider.
The Prolux Ion is powerful for its class of lower priced cordless stick vacuums. Plus you can separate it into a handheld unit for quick picking up of spilled flour or sugar on the floor.
And it's handy for vacuuming your car.
Additionally, if you have problems like arthritis or carpal tunnel, the on/off switch will make quick vacuuming so much easier.