The Shark Navigator cordless stick vacuum (SV1106) has been on the market for a few years and has seen some improvements in suction and weight. It's considered highly recommended and is well loved by a lot of owners.
Shark has produced some very versatile cleaning machines over the years. They're also well known for having good support of their vacuums.
That's because the Shark vacuum cleaners were originally part of the Euro-Pro corporation. They are still a privately owned company primarily owned by Mark Rosenzweig and Mark Barrocas.
They continue to innovate and grow their brands. SharkNinja went from 1% share of the vacuum cleaner market in 2008 to over 20% in the United States market alone.
You may have heard the brand referred to as SharkNinja, The Shark side produces vacuum cleaners and electric mops. Ninja produces kitchen appliances like blenders.
All of these products are manufactured in China.
Shark Navigator SV1106 Particulars

It has a 4 hour charge time, and the run time is 17 minutes on average. Some people reported it lasting longer, ad they're probably primarily vacuuming on hard surfaces.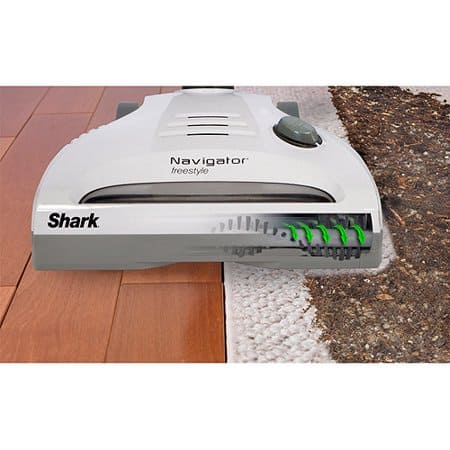 The vacuum head is 10″. And the length of the Shark Navigator is 46 inches (1.2 m). The extra length allows you to maneuver the vacuum underneath beds and furniture easily.
The motorized head has two speeds, and the Shark Navigator automatically detects if you're on bare floor versus carpeting. This is important because it is more gentle on hardwood floors and avoids scratching or wearing down the wood.
Swivel steering enables you to maneuver around the furniture (or toys left around, or pets who don't mind a vacuum).
Pro's
The Shark Navigator has great suction and can easily pick up the pet hair. Consumer's Union (aka Consumer Reports) rated it as the best stick for pet hair.
It can also pick up things like cat litter. Others have tested it with Cheerios and Wheat Chex cereal.
Just remember like all stick vacuums, you need to regularly check to clean out the area between the head and the connector because stuff gets stuck in that angle. See my post on cleaning out my Dyson.
Some people on Amazon reported that their Shark Navigator stopped sucking well after a few months. I suspect hair, fur, and other things get trapped and prevents the motor from creating a vacuum for the suction.
The Navigator SV1106 has the largest debris cup of the field. You can also empty it out the top or bottom so it's easier to empty without getting dust everywhere.
Con's
It's fairly heavy at 7.5 pounds (3.4 kg) compared to the average of 5.5 pounds (2.5 kg) of the other major stick vacuums.
It's considered noisy by the people who use and test it against other stick vacuums. But it's quieter than most upright and cannister vacuums.
There are no attachments available for this stick vacuum. This is fine if you just want to use it as a vacuum cleaner.
Frequently Asked Questions
Is the battery replaceable?
Yes, and you can order it through the Shark company.
Does this stick vacuum have a beater brush?
Yes, and it has two speeds.
Should I keep it on the charger?
Everyone has different opinions about this. Some people believe the battery will last longer if you run it down fully before you charge it back up again.Others keep theirs on the charger when not in use.
Personally I keep mine on the charger. You can read more about it in this article which states that it doesn't matter when you recharge the battery as it doesn't impact the life of the battery.
How long is the warranty?
The Shark Navigator comes with a 12 month warranty.
Conclusion
The Shark Navigator is easy to use, and has a great suction power. It's the kind of vacuum you'd want hanging out near the main living areas.
It's also great if you have to vacuum up a lot of small child food like cereal since it has a large debris cup which is easy to empty.
This is the perfect stick vacuum cleaner if you only need it to vacuum the floor. If you need an attachment for cleaning up a cobweb or a handheld option for vacuuming off furniture, you should look into Dyson or Deik.