The Hoover UH73220 REACT Pet Plus bagless upright vacuum is a great vacuum whether you have pets or not. It can quickly clean up dirt and dust, and keep it from getting back into your home with two HEPA filters.
Introduction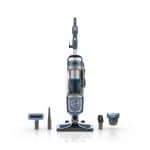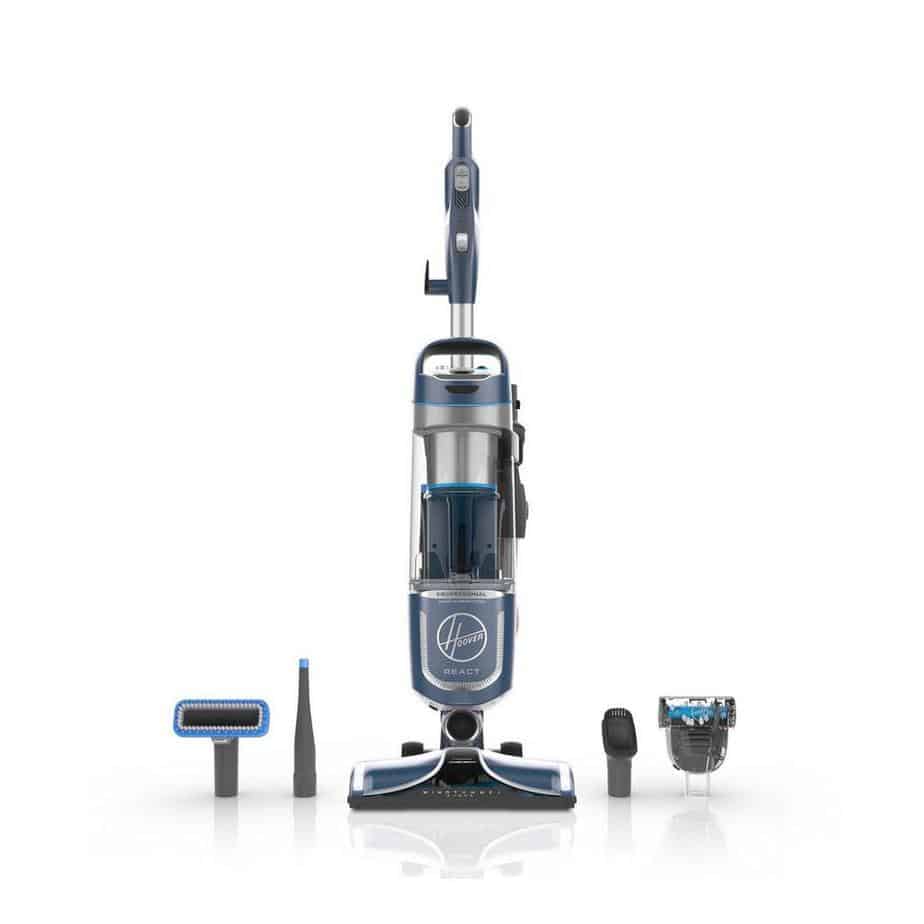 The Hoover UH73220 REACT Pet Plus bagless vacuum is a powerful workhorse. It's a full-size upright vacuum that's great for pet owners. The vacuum features FloorSense(tm) technology to automatically adjust the brush roll speed depending upon your floor type.
Hoover also has a Sealed Allergen System ™ that captures and contains 99% of the dust and allergens in a home and prevents them from sneaking out while you're vacuuming.
And Hoover has brought high tech to home cleaning with a Bluetooth app. It helps you take care of routine maintenance on the vacuum cleaner as well as alert you to issues like a clog that needs to be cleaned out.
The Hoover UH73220 comes with four additional heads for cleaning. You attach it to the connected hose. There are two specifically for pet hair – Pet Upholstery Tool and Pet Turbo Tool. You can also attach the tools to the end of the wand. First, you would need to press the "Wand Release" button on the front of the vacuum handle, and then push the tool onto the handle.
Key Benefits of the Hoover UH73220 Bagless Upright Vacuum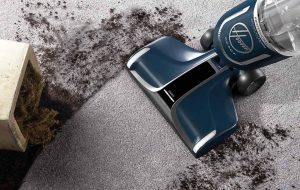 The Hoover UH73220 is bagless so you don't have to frantically find a new vacuum bag right before company is coming over. You get a lot of the benefits of a cordless stick vacuum and more power.
FloorSense (tm) technology allows you to get a better cleaning on your floors without any damage to hardwood surfaces. It automatically senses the change in flooring and then adjusts the speed of the brush. You can also manually adjust this using the Bluetooth app.
The Hoover UH73220 has a 10.5 foot hose that you can use for cleaning upholstery or stairs or anywhere that you need a handheld vacuum. This Hoover vacuum is a non-lift style which means you can't pull a canister out for easier vacuuming of stairs. For that feature, you would need a different model.
Pros and Cons of the Hoover UH73220
You will need to wind up the cord on this vacuum as it doesn't have an auto-rewind, nor a place internally to store the cord. The cord is a long 30′ which should allow you to vacuum a full room (and then some) before needing to move the cord.
There is a variable suction control allowing you to get a burst of suction if you're needing that extra power to pick up fur that's stuck to the carpet. If your pets are like my pets, that fur loves hanging out no matter how many times I vacuum over it with a normal vacuum. The Hoover UH73220 is very powerful.
The Hoover UH73220 has two HEPA carbon filters to ensure that it captures all the dust, dirt and allergens that may be floating around.
You can check it out here on Amazon
[amazon_textlink asin='B06WLLBKQT' text='Hoover UH373220′ template='ProductLink' store='cleanpantry-20′ marketplace='US' link_id='d33a1d93-ad41-11e7-b79a-815d1eb5a16f']
Frequently Asked Questions
What is FloorSense and what does it do?
FloorSense automatically adjusts the height and the speed of the beater bar to match the floor type. Watch this video from Hoover:

What does the Bluetooth app do?
The copy on the website says that the app allows you to customize your cleaning experience and maintain your vacuum for optimal performance. But what does that really mean? Well you can monitor the system performance to see if you need to clean or maintain the vacuum. That includes checking for clogs and checking the brush roll for blockages. You can also adjust the FloorSense(tm) settings manually. And it has alerts to inform you when to wash the filters and perform routine maintenance checks. And the app has lots of tips and tricks for getting the most out of your Hoover.
How maneuverable is the vacuum?
Hoover uses an advanced swivel steering design to allow the vacuum to move around and under furniture as well as clean in tight spaces. Some people feel it's very maneuverable and others feel it's not as maneuverable as the competition. I think it depends on your prior experiences and how you vacuum.
How heavy is the Hoover UH373220?
The vacuum weighs a little less than 18 pounds. If you're used to a stick vacuum, this is going to seem heavy. If you're used to other upright models or a canister, you'll think it's light or just fine.
Can you trust Hoover?
Hoover has been around for many decades and proudly stands behind their products. They're very active on Amazon comments and questions to ensure that people are getting a solid experience. They also have a great customer service department on their website, and a 1-800 number published on their website. Hoover.com also has product manuals and instructional videos in case you need to look something up.
You can check it out here on Amazon:
[amazon_textlink asin='B06WLLBKQT' text='Hoover UH373220′ template='ProductLink' store='cleanpantry-20′ marketplace='US' link_id='d33a1d93-ad41-11e7-b79a-815d1eb5a16f']