The Hoover UH72625 WindTunnel 3 bagless upright vacuum is a great vacuum whether you have pets or not. It can quickly clean up dirt and dust, and keep it from getting back into your home. And it can remove the smells with a carbon HEPA filter.
Introduction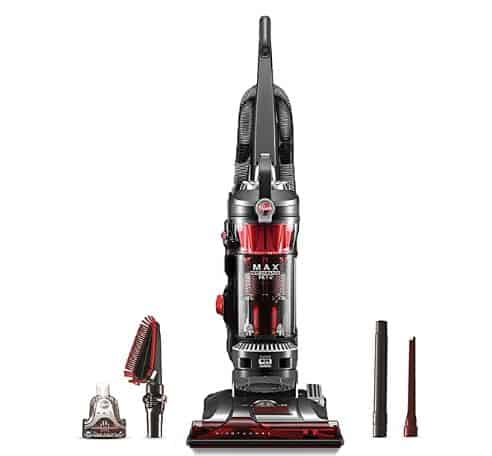 This Hoover vacuum is a powerful workhorse. It's a full-size upright vacuum cleaner that's great for pet owners.
The vacuum features the ability to turn off the brush roll giving you control with floor type.
The Hoover UH73220 comes with four additional heads for cleaning. You attach it to the connected hose. There are two specifically for pet hair – Pet Upholstery Tool and Pet Turbo Tool.
You can also attach the tools to the end of the wand. First, you would need to press the "Wand Release" button on the front of the vacuum handle, and then push the tool onto the handle.
Key Benefits of the Hoover UH72625 Bagless Upright Vacuum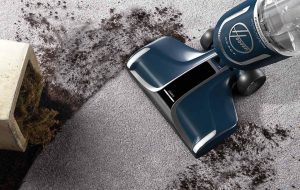 The Hoover UH72625 is bagless so you don't have to frantically find a new vacuum bag right before company is coming over. You get a lot of the benefits of a cordless stick vacuum and more power.
The dirt cup can hold 1.42L of debris and is easy to empty.
The Hoover UH72625 has a 15 foot hose that you can use for cleaning upholstery or stairs or anywhere that you need a handheld vacuum.
This Hoover vacuum is a non-lift style which means you can't pull a canister out for easier vacuuming of stairs. For that feature, you would need a different model.
Pros and Cons of the Hoover UH72625
You will need to wind up the cord on this vacuum as it doesn't have an auto-rewind, nor a place internally to store the cord. The cord is a long 30′ which should allow you to vacuum a full room (and then some) before needing to move the cord.
The Hoover UH72625is very powerful. It has 13 cyclones for very deep cleaning. And the beater head has a 15″ nozzle which is wide for the industry.
The Hoover UH72625 has one HEPA carbon filters to ensure that it captures all the dust, dirt and allergens that may be floating around. And the HEPA filter can be easily washed.
You can check it out here on Amazon
Frequently Asked Questions
How maneuverable is the vacuum?
Hoover uses an advanced swivel steering design to allow the vacuum to move around and under furniture as well as clean in tight spaces. Some people feel it's very maneuverable and others feel it's not as maneuverable as the competition. I think it depends on your prior experiences and how you vacuum.
How heavy is the Hoover UH72625?
The vacuum weighs a little less than 18 pounds. If you're used to a stick vacuum, this is going to seem heavy. If you're used to other upright models or a canister, you'll think it's light or just fine.
Can you trust Hoover?
Hoover has been around for many decades and proudly stands behind their products. They're very active on Amazon comments and questions to ensure that people are getting a solid experience. They also have a great customer service department on their website, and a 1-800 number published on their website. Hoover.com also has product manuals and instructional videos in case you need to look something up.
You can check it out here on Amazon: