If you're looking into a lightweight battery powered vacuum, you should check out the Black and Decker 2-N-1 cordless stick vacuum cleaner. It has useful features that most other stick vacuums don't.
And it provides strong and consistent suction on high pile carpeting.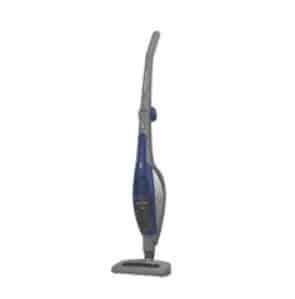 Key Features of the Black and Decker 2-N-1 Cordless Stick Vacuum Cleaner
This stick vacuum cleaner is actually two vacuums in one.
You have a 44″ long stick vacuum and a hand vacuum. It's easy to take the hand vacuum off the stick for quick clean ups.
If you have hand and arm strength problems, you won't have any problems pulling off the hand vacuum. It's an easy switch mechanism.
The hand vacuum is useful for cleaning out corners or dusting furniture. You'll be able to clean your home quickly when you can quickly swap around the 2-N-1 stick vacuum cleaner without wondering where all the attachments are.
Need a vacuum cleaner that lasts a long time? The 2-N-1 has a lithium battery that lasts five hours. This is quite a lot longer than most stick vacuums on the market.
The 2-N-1 comes in fun colors – eggplant and blue. Sometimes it can be fun to have a pretty vacuum. There are a few other models in grey. And there's even one specifically designed for pet hair.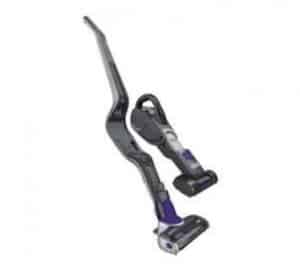 Benefits of the Black and Decker 2-N-1 Stick Vacuum Cleaner
The vacuum head has swivel steering allowing you to move easily around furniture (and sleeping pets) with ease.
The 2-N-1 has both Battery and Filter indicators. That way you can see if you're low on battery charge before starting the next room. And you know when to take out the permanent filter and clean it.
It's easy to clean the filter. Some people wash it in their sink. Others put it through the dishwasher.
Some people purchase a second filter so you can have one clean at any point in time. The bottom line is that it's super easy to clean your home while keeping dust at bay.
The Black & Decker has a very good 2 year warranty covering the motor and the parts.
One thing to know is that stick vacuums have less suction power then regular vacuums.
The 2-N-1 has good strong suction. It may not be as strong as a regular vacuum, but to me, it's easier to vacuum more frequently with my stick vacuum.
Anyway, the ones that don't have great suction are usually considered electric brooms and not vacuums.
Pro's and Cons
The 2-N-1 stick vacuum cleaner automatically adjusts the suction power when you change surfaces. So it is stronger on carpet and less on bare floor.
This protects your wood floors, and saves on the battery life.
While it's called lightweight, it actually weighs in at 9 pounds which is almost twice the Hoover BH2210PC. So you may want to try it out and then decide if it's good for you if you have upper body strength issues.
You can remove the bar from the vacuum head to make it easier to clean hair that gets caught. To me, this is essential to have since I do have to clean the vacuum head after every use. (for those that may not know, we all have long hair and are owned by one long haired cat)
However, you can't remove the vacuum head. This makes it a little more difficult to clean, but it's not too bad.
And if you need to clean out a crevice or baseboards, you have to use the handheld as there's no way to put other attachments on the 2-N-1 stick vacuum.
Other Review Information
I thought this was a great video of how it arrives and what you need to do to get it set up. Some assembly is required. And let's face it, you can't go wrong with seeing the princesses.
You can check out the Black and Decker 2-N-1 cordless stick vacuum cleaner at Amazon. This is an affiliate link. It won't increase your price. I will get a small referral fee from Amazon if you buy. That helps me review and write these blog posts.