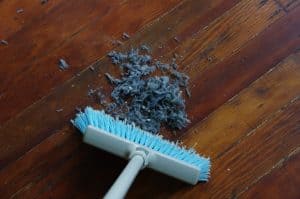 Ready for more one minute chores?
(Here's the original one minute chores post)
One minute chores are simple and quick things you can do when you have a spare moment.
When you do them regularly, you'll be astonished how quickly your house will look and stay clean.
Wipe Down Forgotten Areas
Grab a damp cloth and wipe down:
Doorknobs
Remote Controls
Light Switches
Handles
Telephones
Keyboards and Mice
I often use Lysol or Clorox wipes. Especially after someone's been sick.
Vacuum Entryways
If you're like me and have a decorative stool in your entryway, it probably doesn't get vacuumed often.  Move it over and quickly vacuum up the dust bunnies.
Shake Out a Floor Mat
Pick the mat up and take it outside. Then shake it all out. You'll reduce the amount of dust in your home. If you have another minute, go ahead and vacuum it.
Collect Garbage and Recycling In A Room
Often, there will be bits of garbage or recycling hanging out in a room that never gets picked up.  Grab a bag and do a quick turn around the room and tidy it up.
Take Care of Plants
Water your plants and take a damp cloth and gently wipe off the leaves. You can also take a moment to snip off dead vines or leaves.
I hope you enjoy these ideas.  I'll be writing up more one minute chores in a future post.