The Dyson DC44 Animal stick vacuum is what I personally own. I got the blue one from QVC a few years ago. It's much cheaper now. I use it every day.
What Is Dyson?
The Dyson company was founded in 1991 by James Dyson. He's a British Engineer that worked on jet engines. By exploring cyclone technology, he was able to create a prototype for the first Dyson vacuum cleaner in the 1970s. What was super special was that these upright vacuums were bagless and were built around a ball to make it easier to move around. Plus, he designed it so it wouldn't lose suction.
He was not able to license it to anyone until the 1980's when a Japanese company licensed the technology and started mass producing his new vacuum cleaner model.
Since then, his company has taken off and produced a variety of vacuum cleaners as well as hairdryers and fans. So the bottom line is that they're a well-established company.
What Is the Dyson DC44 Cordless Animal?
This model is a slimline stick vacuum with many attachments. You can easily swap out any of the attachments for quick cleaning of your car or couch and then vacuum up the stairs.
It's cordless and requires a few hours of charging once it's been drained. I've found that it's well balanced and easy to pick up. The carpet head is motorized. Sometimes it gets in an odd state where the bar isn't rotating. So I have to release the trigger, and then press in again. I've noticed this happens most frequently when I'm vacuuming from the vinyl in the kitchen up on to our carpeting.
Our carpeting is over 20 years old, so it's pretty squashed down at this point.

It comes with a mini motorized head to remove pet hair and dust from awkward spaces and upholstery. Dyson engineers developed the DC44 Animal for versatile floor-to-ceiling cleaning. If you're short like I am, you'll need to stand on a stool to get to the ceiling. But it is light and easy to lift.
What Else Can It Do?
It's suitable for every floor surface: carpet, ceramic, vinyl, and wood. You can install a docking station on the wall. There are holes for screws. It conveniently stores and recharges the machine when not in use.
The motorized floor tool has two types of brushes: anti-static carbon fiber filaments and stiff nylon brushes. The carbon fiber removes fine dust from hard floors while the stiff nylon brushes remove ground-in dirt from carpets.
When the wand is removed, the motorized head attaches directly to the machine for cleaning stairs and car interiors. Like all Dyson vacuum cleaners, DC44 Animal has the patented Root Cyclone technology. That ensures it doesn't lose suction as you clean.
The cleaner head pivots 180° without losing floor contact. A self-adjusting soleplate maintains optimum contact from floor to floor. And V-Ball technology enables smooth steering around furniture and obstacles. No more awkward moves when vacuuming. It really is easy to get it around couch edges.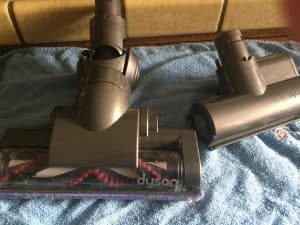 The DC44 Animal has a boost mode that gives you a constant suction that's stronger than the regular high suction. The button is on the back of the handheld unit. It's easy to quickly press it with the other hand when vacuuming.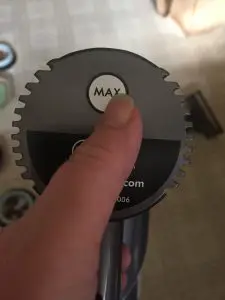 And since it's bagless, you don't have to worry about running out of bags.
The motorized heads are easy to clean. You take a coin (or I use a butter knife which drives my husband insane) and turn one slot. It comes out and you can pull out the brush and clean it. I have a special pair of very sharp scissors that I use to cut the hair.
Specifications
2-year parts & labor warranty when purchased from an authorized reseller
Dyson digital motor: 3 times faster than conventional motors. The most power-efficient cordless vacuum.
Motorized floor tool with carbon fiber brushes. Ultra-fine conductive carbon fiber brushes clean hard floors. Rotating nylon brushes remove dirt ground into carpets.
20 minutes increased run time. 20 minutes of high constant suction.
Additional tools included: Mini motorized tool.
What's In The Box?
DC44 Animal Vacuum
Wand
Motorized floor tool
Charger
Docking station
Mini motorized floor tool
Combination brush/wide debris nozzle tool
Crevice tool
Operations manual
Quick start guide
2-year warranty
Product Dimensions
11.8 x 5.7 x 28.4 inches
Weight: 10.2 pounds
Pros
Easy to clean the beater bar.
Light
Easy to use
Attachments pop right on and off but stay secure while using
Cons
You have to hold the trigger down. Hands can get tired if there's a lot of vacuuming to be done. I don't have arthritis (knock wood) but I could imagine this would be difficult to use for someone who did.
Short battery life. Especially when you need to use the boost. The newer models have longer battery life. I can vacuum the whole house but only if I've been vacuuming it regularly and don't need to do any deep cleaning.
How to Clean the Vacuum Head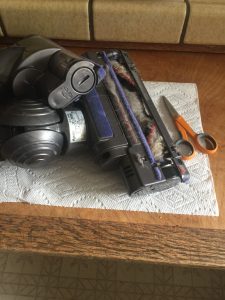 I gathered up everything. You don't see the penny that I used. Then I opened it up and slid out the bar.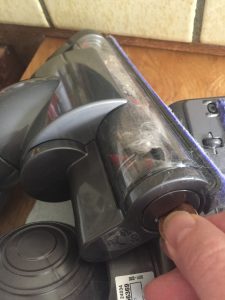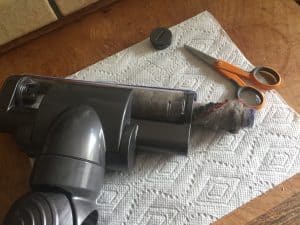 And then I used the scissors carefully to cut the hair/fur and pull it off the bar.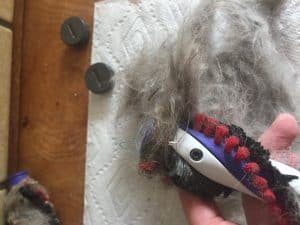 Back in it goes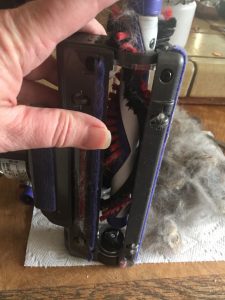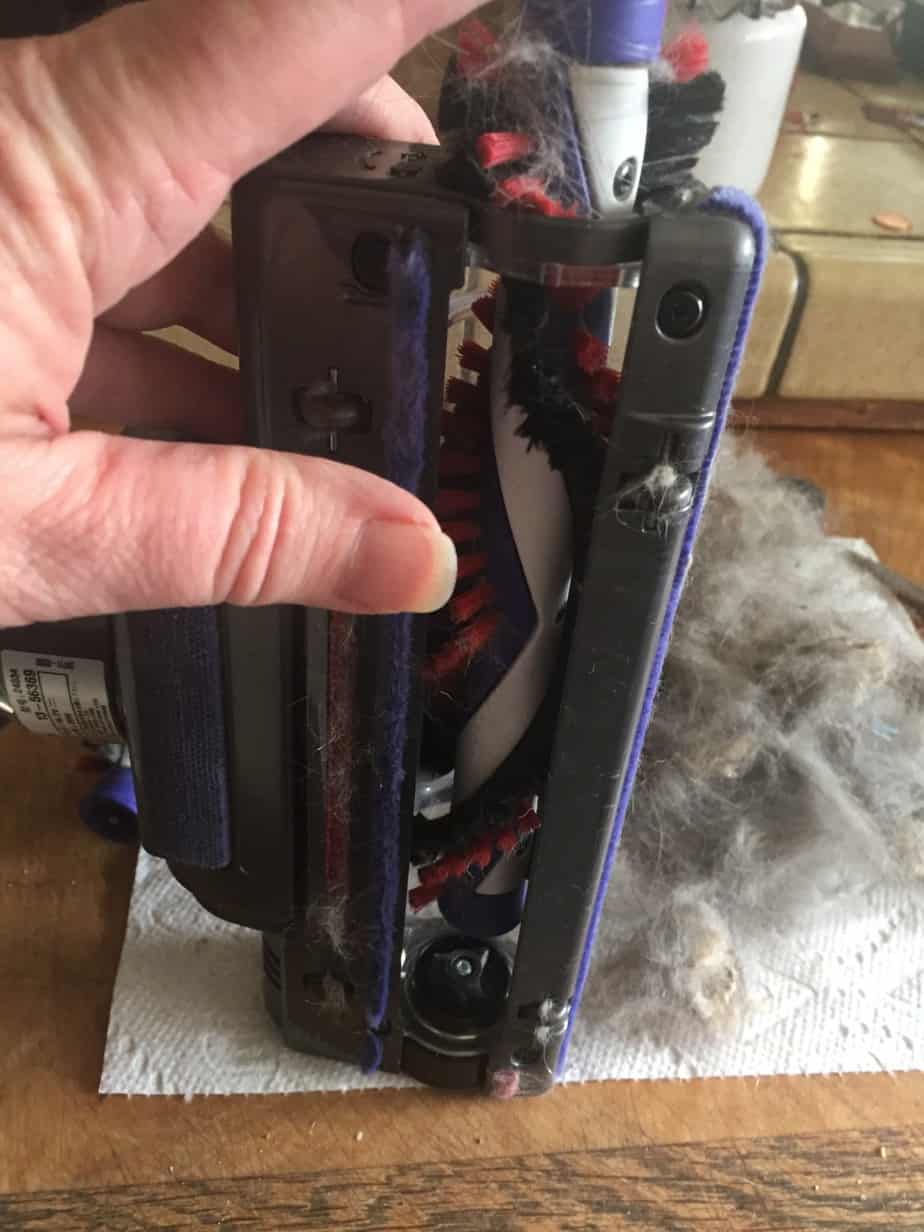 I popped back on the cap and twisted it into place with the penny. Less than five minutes of my life.
How Quiet Is it?
It barely woke up a cat.

Conclusion
I'm happy every day that I use my Dyson DC44 Animal Stick. I think it would be great for people who want to quickly vacuum regularly, or who need to grab something light and convenient to clean up a mess. (Anyone ever knock a container of Wondura on their kitchen floor and it spoofed out all over the place because you didn't close the lid properly? No? Just me, then.)
I had to use customer support once when it stopped working. It was within the 2 years, and they sent me a whole new (refurbished) vacuum. So the company does stand by their customers.