If you are the type of person who wishes there were more automated robots to do everyday household chores, you are not alone.
We all wish more chores could be delegated to machines to give us more time to binge-watch our favorite shows or try that new, viral beauty product.
While there are many more advances that need to be made to robotize household chores, one area where we're spoiled for choice is robot vacuum cleaners.
Having been around for a few years now, robot vacuum cleaners are becoming more and more commonplace in the average American household.
The functionality of these vacuums has increased over the years along with their popularity, and the pricing has decreased to a more affordable level.
If you are looking to invest in a robot vacuum cleaner, you're in the right place. Let's take a look at two of the most well-known and well-respected robot vacuum brands' newest offerings and find out which one comes out on top.
The Roomba 692 robot vacuum cleaner is a basic model, great for those who are at the beginning of their journey into robotizing their homes. It is robust and easy to use, with a home base that is compact and easy to store when not actively in use.
The Roomba 692, like all Roomba products, comes with the peace of mind afforded by the 30 years of expertise behind their creation and with their customer service. As a leader in the robot vacuum industry, Roomba is a brand that you know can be trusted.
It also has the benefit of the Roomba OS software. An ever-updating, smart operating system that offers a plethora of features that mean vacuuming can be an almost entirely hands-off experience. Who doesn't want that?
While Shark might be more well known for their upright and stick vacuum cleaners, they also offer a range of robot vacuums that stand up well to the competition. The Shark Ion Robot vacuum is an incredibly easy-to-use, newbie-friendly vacuum cleaner.
Boasting an impressive array of smart features for an entry-level product, this robot vacuum makes for a great introduction to the world of automated home cleaning products.
With an ability to adapt to different floor surfaces and a tri-brush system, the Ion robot vacuum gives you the ability to clean the entirety of your floor with no more than a moment of thought.
While both of these robot vacuum cleaners sound like the dream addition to your household cleaning repertoire, there are a few crucial differences between the two. Let's explore these robot vacuums in more detail to find out which one best suits your needs.
Price
The pricing of the Roomba and the Shark Ion is surprisingly similar despite the differences in smart technology, brand name reputation, and ability. While pricing varies a little depending on the retailer, there is no more than a $100 difference between the two vacuums.
The Shark Ion is the cheaper option of the two. This is likely, in part, due to the fact that, while Shark is an established brand in the world of upright and stick vacuum cleaners, it is not a huge contender in the robot vacuum world, yet. You are not having to pay for the name quite as much as you do with the Roomba.
However, the main reason for the lower price is probably the lack of features and smart capabilities of the Shark Ion when compared to the Roomba.
The Roomba vacuum comes with a very well-established and respected name which always boosts the price tag somewhat. However, despite being the more expensive option here, it is still incredibly reasonably priced, especially when you consider the level of smart technology and features included.
Battery life
One of the most important features to consider when choosing a robot vacuum cleaner is its battery life. The length of battery life that you need is highly dependent on the size of the area that you want the vacuum cleaner to clean and the time frame in which you want it to be done.
If you have a large area of floor to be cleaned and you need all of it cleaned in one day, for example, you will need a vacuum with long battery life and perhaps a fast charging time. If your large floor can be cleaned in different sessions or on different days, then you could afford to cut down on battery life requirements.
The Roomba has an average run time of 90 minutes on hard floors. This is enough to clean an area of about 636 feet. The Roomba will return to its dock to recharge when its battery is low and you can send it out to finish any areas that have been missed once it is charged.
The Shark Ion has an impressive average run time of 120 minutes on hard floors. Featuring an automatic recharge function like the Roomba, the Shark Ion will not run out of battery in the middle of your home, instead, it will return to its base to recharge.
Once it is fully recharged, it does not have the ability to carry on from where it finished, therefore you will have to manually restart the vacuum.
As these run times were measured on hard floors, it is reasonable to assume that carpeted floors will reduce the run time due to the extra power required to move across the softer surface. This is important to consider if your home is mostly carpeted.
Bin capacity
Bin capacity is another important factor to consider with your robot vacuum. The run-time capabilities of your vacuum are irrelevant if its dust bin is filling up before its battery is depleted.
The Shark Ion has a dust bin that is quite small at about 0.43 liters but don't let that put you off. The Ion is very good at compacting the dirt and dust into its bin and can fit much more than you would be expecting in there.
It is best to empty the bin regularly, regardless of if it is full to maintain the suction power of the vacuum. The more full the bin gets, the lower the suction may drop.
The Roomba has a standard dust bin capacity of 0.5 liters which doesn't sound like a significant increase on the Shark, but a lot of dirt can be compacted into 0.07 liters. The Roomba's dust compacting abilities are on a par with the Sharks and with a run-time deficit of half an hour, a significantly larger dust bin would be pointless.
If emptying the dust bin on a robot vacuum is something that concerns you, both brands offer self-emptying models for a higher price tag.
Filtration
Filtration is an important aspect of any vacuum cleaner, but even more so if anyone in your household has a sensitivity to common allergens such as pollen, dust, or animal fur.
The Shark Ion comes with a HEPA filter as standard. This proven and well-known technology really provides peace of mind for those who suffer from allergies.
With the ability to remove up to 99.97% of bacteria and allergens from your home, HEPA filtration is a fantastic asset for the Shark Ion.
A downside to the HEPA filters is that they require changing when they become clogged and spare filters need to be purchased separately. The Shark comes with one HEPA filter so it is wise to invest in some when you purchase this robot vacuum so you are prepared when the original gets clogged.
The Roomba does not use HEPA filtration systems. Instead, they prefer to use their own filtration system called AeroVac. Much like the HEPA filters, they need replacing from time to time when they get clogged.
Because AeroVac is a brand-specific filter you can only purchase replacements from Roomba themselves which some people might find restrictive or view as somewhat of a money grab.
However, the AeroVac appears to be as effective as HEPA at removing allergens and bacteria from your home, although this has not been verified by independent tests.
Warranty
Warranty is important when investing in any household appliance and something that gives us added peace of mind when making a purchase.
Both the Roomba and the Shark Ion come with a 1-year basic warranty as standard. Both warranties cover factory defects only. They do not cover operator misuse, neglect, accidental damage, or normal wear and tear.
The Shark Ion does have an advantage in this area however as Shark offers the option of purchasing an extended 2-3 year warranty. However, if the extended warranty is as basic as the standard warranty, it might not be worth it.
Features
The features of robot vacuums are what really sells them, there might be a specific feature that you are really looking for in your robot vacuum and without it, you just aren't interested. So, let's look at the features of both our robot vacuums.
Shark Ion
Tri-brush System – Combining side brushes, channel brushes, and a brush roll with multi surface capabilities creates a powerful clean for your home.
High-tech Cliff Sensors – The Shark Ion has sensors that allow it to sense stairs, ledges, and furniture. This helps it to avoid damaging itself or your home. These sensors also help the Shark Ion to avoid getting stuck on objects.
Mobile App Control – The SharkClean App allows you to control your Shark Ion from your phone. This allows you to start a cleaning program no matter where you are, as long as you have a WiFi connection. You can also set up a cleaning schedule for a completely hands-off approach to vacuuming.
Voice Control – With WiFi connectivity, your Shark Ion can be controlled via Amazon Alexa or Google Assistant products. Simply connect your vacuum to your smart device and use voice commands to begin or end cleaning programs.
Automatic Recharge – The Shark Ion will automatically return to its charging dock when its battery is getting low so that you won't find it stopped in the middle of your living room when you get home.
Low Profile Design – The low profile design of the Shark Ion allows it to easily clean beneath furniture such as beds and couches.
Roomba
Adaptive Navigation – Multiple advanced sensors allow the Roomba to navigate under and around your furniture. They also prevent the Roomba from bumping into edges such as baseboards. The positioning of the sensors allows the Roomba to detect stairs and ledges easily.
Dirt Detection Sensors – The Roomba has sensors that alert it to areas with higher volumes of dirt in your home such as high traffic areas. Once detected, the Roomba will clean these areas more thoroughly.
Cleans Around Your Life – The Roomba learns your cleaning habits and can suggest cleaning schedules based on your needs. It also makes suggestions for specific cleaning tasks such as increasing cleaning during allergy season.
Voice Control – With a WiFi connection the Roomba can be controlled using voice commands through your Amazon Alexa or Google Assistant devices. Start vacuuming without lifting a finger.
3-Stage Cleaning System – The 3-stage cleaning system of the Roomba loosens, lifts, and suctions the dirt from your carpets, hard floors, and edges.
Flooring Capabilities
The Roomba is capable of cleaning a vast array of floorings. From low pile carpets to tile, to hard floors, the Roomba can handle them all adeptly.
The Shark Ion is best suited to limited types of flooring such as low pile carpets and hard floors, however, it offers a deep clean of these floor types.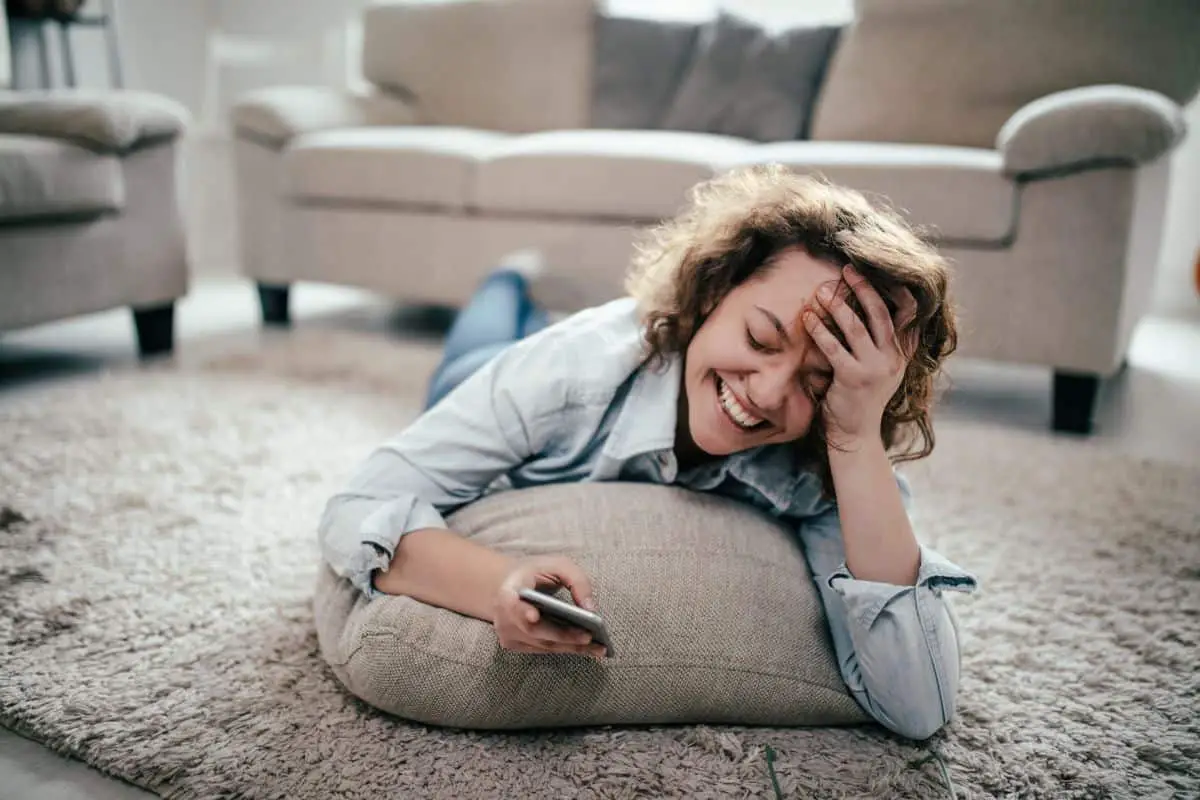 Neither vacuum is designed to work on high pile carpets or rugs. If you have high pile carpets and rugs in your home, a robot vacuum is likely to get caught in them and shut down mid-clean every time.
Mapping
Both the Roomba and Shark Ion require the presence of boundary wall strips in order to map the areas that you want to be cleaned. This can be a worthwhile investment if you have areas inside your home that you want to keep your robot vacuum out of.
Such areas might include pet feeding areas and near litter boxes, both of which can be hazardous to your robot vacuum cleaners.
Object Avoidance
This is an area in which both the Roomba and the Shark Ion are closely matched.
The Roomba is equipped with the ability to reverse itself off of things such as electrical cables to avoid getting tangled up in them.
The Shark Ion is more likely to avoid such objects in your home, however, if it did get caught on them, it would be unable to get itself off of them and instead would shut down.
Both the Roomba and the Shark Ion are equipped with sensors around their lower edges that allow them to avoid objects that they may encounter inside your home such as furniture, stairs, and toys.
Despite the effective object avoidance sensors and systems of these robot vacuums, it is recommended that you pick up any debris from your floor that could pose an issue for the vacuums.
This includes children's toys, animal toys, discarded blankets, and stray socks. Your robot vacuum will be much more effective when given a clear area to clean.
Final verdict
Both of these robot vacuums are quite evenly matched in their capabilities, features, and price tags making choosing between them very difficult. So, let's see who came out on top in each category.
Price: Shark
Battery Life: Shark
Bin Capacity: Roomba
Filtration: Shark
Warranty: Tie
Features: Roomba
Flooring Capabilities: Tie
Mapping: Tie
Object Avoidance: Tie
Smart Home Integration: Tie
Design: Tie
Overall Performance: Shark
The Roomba has several categories where it is the clear winner, particularly in the bin capacity and features departments.
The Roomba's ability to learn cleaning schedules and detect areas that require extra attention put it above the Shark Ion's features, and if this is something that would make a difference in your lifestyle, the Roomba is your best choice.
However, the Shark Ion is a great all-rounder vacuum with a more attractive price tag. Considering the difference in retail prices between the two vacuum cleaners, the Roomba does not offer an overwhelmingly better experience.
The Shark Ion offers a longer run time, a deeper clean on carpeted and hard floors, and a proven effective filtration system. In terms of warranty, mapping, design, object avoidance, and smart home integration the Shark easily matches the Roomba.
Whichever vacuum you choose, it is hard to go wrong with either of these brands and models. The ease of use for both makes them great starting points for those who are new to the world of robot vacuums.
They also both come equipped with enough features to provide an in-depth initiation into the capabilities of high-end products that you can invest in once you know that robot vacuums fit into your lifestyle well.